U14s Team Jets 2014 - 2015 Season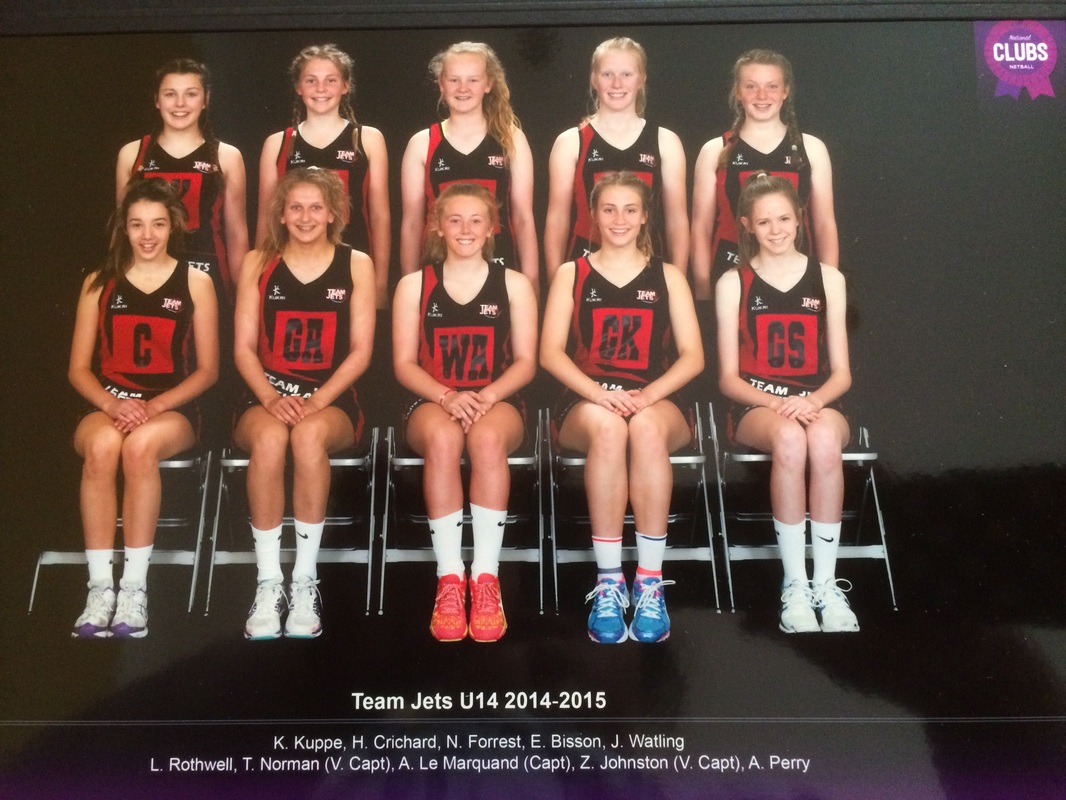 Sunday 24th May 2015

Congratulations to U14 Team Jets who have finished 6th at the National Club Finals

1: Tameside
2: Chester
3: Turnford
4: Leeds Athletic
5: Mid Sussex
6: Team Jets
7: Royals
8: Asco
9: Essex Open

10: Parkside
11: West Bromwich
12: Telstars
13: Chevrons
14: Riverside
15: Hucclecote
16: Grangetown
17: Allestree
18: Rutland Rockets
---
Saturday 21st March 2015

Massive congratulations to U14 Team Jets who are U14 Regional Finals champions and are off to Nationals in May!

Team Jets travelled to the South West U14 Regional Finals at Bath STV today. In their opening game they met Carn Brea Storm winning 25-24, before meeting rivals Hucclecote and with a fantastic performance won 23-17. The team also won against Galmington to secure a final against Hucclecote. With Team Jets winning 30-24 they go through to Nationals as Regional Champions. Hucclecote go through as Runners Up. Nationals to be held in Newcastle 23rd-24th May.
---
Sunday 1st March 2015

South West Netball regional's on Sunday 1 March 2015 was a test of strength for the Under 14's Team Jets who fought well against competitors from the South West region. Jets who came third overall secured a place at regional finals on 21st March 2015 to be held in Bath.

The opening game against Pinehurst was the first draw of the day with Goal Shooter Ellie Bisson taking control from the start, linking well with her team mate Tallula Norman.

The second game against Old Chelts seen Wing Defence Jess Watling making turnovers to enable Jets to take a six goal lead at half time. This continued through the second half with Honor Critchard making some crucial interceptions to assist the team to a win of 15 - 5.

It was a tight start against Bournemouth in the first half with Jets leading 7-5. Making a defensive change in the second half bringing on one of the younger players Molly Carre, for her first debut game for team Jets, making an instant impact to the game allowing us to end the game with a 17-9 win.

Leading into the game before lunch against Poole saw Libby Adam hunting the ball down and making numerous interceptions to finish the game with a 10-3 win.

Going into the last two toughest games of the afternoon, goal shooter Alex Perry held her own against the strong defensive side against Hucclecote. At the other end one of the other younger players Kiah Kuppe, also making her debut as goal keeper for the Jets side, showed her resilience against the tough opposition, losing 10-7.

Goal attack Tallula Norman played faultlessly through out the day. Bringing her experience and knowledge to the game she consistently made her presence known to the opposition linking well with Captain Abbie Le Marquand as wing attack who made some lovely feeds into the shooting circle. Lawn who were surprised by the concentration of Vice Captain Zara Johnson found it difficult to break through her defensive skills as goal defence. The game finally ended on a draw of 9-9 after an intense goal for goal finale.


Squad:

Abbie Le Marquand (C)
Zara Johnston (VC)
Tallula Norman
Libby Adam
Molly Carre
Kiah Kuppe
Alex Perry
Ellie Bisson
Jess Watling
Honor Critchard

Coach: Lorraine Johnstone
Manager: Sally Danvill
Scorer: Jackie Pannenborg
Umpire: Trudy Besant
---
Sunday 11th May 2014

U14 Team Jets have had a successful weekend at the National Play Offs. On Day One they won 2 out of 4 games securing a place in the group competing for a national finish between 7th and 12th place on Day Two. On the second day the girls worked hard and made the final group play off, loosing out to Turnford 15-12. Well done to the whole squad - 8th in the country and a top half finish at Nationals!!


1st Ribble
2nd Tameside
3rd MK Netters
4th Eastwood
5th Woodley
6th Leeds Athletic
7th Turnford
8th Team Jets
9th Hucclecote

10th Academy
11th Telstars
12th West Brom
13th Elmdon
14th Chevrons
15th Furureprint
16th Northants
17th Oaksway
18th Seatonians
---
Saturday 6th April 2014

U14 Team Jets have had a great day at Regional Finals and have qualified for U14 National Finals on the 10th/11th May!

Hucclecote (who won all their games) go through to represent Netball South West as Regional Champions with Team Jets holding off the challenge from Cornwall Saints to go through as runners-up.
Team Jets won their games against Titans (9 v 6),
Predators (11 v 4), Old Chelts (13 v 5), Cornwall Saints (9 v 6), Team Bath (10 v 7) and Exeter (15 v 3).

They only lost against the eventual champions Hucclecote who won by an impressive 13 goals to 3.

The squad will now play in the National Play-Offs on the 10th and 11th May 2014
---
Sunday 9th March

U14 Team Jets have won the South Preliminary round of the U14 Club competition and have qualified for the U14 Regional Finals. Congratulations girls!

Results: 1st Team Jets, 2nd Hucclecote, 3rd Old Chelts, 4th Team Bath

There are preliminary rounds in both the South and North of the South West League. The top four placed teams from the North Preliminary Round and the top four placed teams from the South Preliminary Round will qualify for the Regional U14 Final. The winners and runners up from this Regional Final tournament, two teams in total, will represent the South West in the National U14 Finals.

The Teams going forward to the Regional Finals held on the 6th April in Plymouth are:

North: Team Jets, Hucclecote, Old Chelts, Team Bath
South: Exeter, Saints, Predators, Titans